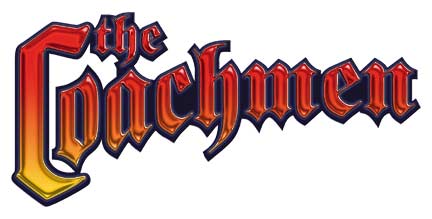 A History of the Band
---
The Coachmen formed with six original members from two Lincoln Bands in April of 1964. Rick Bell, Red Freeman, Craig Perkins and Jeff Travis from The Viscounts were joined by Bruce Watson and Jim Reinmuth of The Chandels. At the Band's inception, the line up included Watson on drums, Perkins on bass guitar and the other four members playing guitar. Over the next few months, Rick Bell moved to organ while Jim Reinmuth moved to electric piano. Jeff Travis and Craig Perkins both left the Band briefly in late 1964 and returned in early 1965.
Jim Reinmuth left the Band in June of 65, at which time The Coachmen adopted it's five member line up of two guitars, bass, keyboards and drums that was maintained through the 1960's except for the first half of 1966, when horns were added.
In July of 1965, Red Freeman left the Band and was replaced by Frank Elia, covering most of the Band's lead vocals and rhythm guitar. Rick Bell and Bruce Watson did most of the remaining vocal work.
Around the same time, the Band signed a management contract with CBC Enterprises of Omaha, owned by Scott Cameron. The agreement called for exclusive management of the all phases of the Band's operation including performances and recordings. It lasted until the Band desolved in 1969 as Professor Morrison's Lollipop.
In August of 1965, Mr. Moon and Nothing At All were recorded at Sears Studio in Omaha, Nebraska. This first of the Band's six records was issued as a two sided release on MMC Records, a Cameron label. Both sides were featured to local radio stations throughout Nebraska and Iowa because both songs were well known among Coachmen followers via live performances at most of 200 shows the Band had played by the time the record was released. While Nothing At All was charted at a few local stations, Mr. Moon quickly caught fire and entered several regional charts within the top ten before reaching and holding the number one position for several weeks. Because MMC did not have national distribution capabilities, the songs were leased to and re-released by slightly larger Bear Records of Minneapolis. However, this did not result in simultaneous nationwide play and as a result, Mr. Moon was distributed hit and miss around the United States over the next 12 months--charting in various US markets between San Francisco and Boston throughout 1966.
In early 1966, the band added Rusty Davis and Merle Leadley on trumpet and tenor sax and moved further into R&B. During this time, second release Linda Lou--a cover of the Ray Sharpe song--was released on Bear Records and charted predominantly in the three state region of Nebraska, Iowa and Minnesota. In late 1966, The Coachmen moved back toward their garage band rock roots, eliminating the horn section and covering The Who's My Generation as its third release--this time back on MMC. My Generation charted throughout that portion of the Midwest that by this time had become the Band's touring grounds--but not beyond. The flip side of My Generation is an original called No Answer, the third of three Red Freeman songs recorded by the Band--all without Freeman, an original member.
Rick Bell left the Band in late 1966 and was replaced by keyboardist Kelly Kotera, who remained with the Band through the rest of the 60's.
In early 1967, the Band released their fourth disc--Tyme Won't Change written by Kotera and Watson. Tyme turned out to be the second best seller of the four Coachmen releases but did not break far enough beyond the Band's regional touring grounds to push it up to national level status.
In late 1967, the Band covered and released The Number One Hippie On The Village Scene under a different identity--Alexander's Rock Time Band--as a project record and an attempt to generate bubble gum sales from a younger market than the heavy rock/R&B fans that by this time had followed The Coachmen through approximately 700 shows in 13 states.
Number One Hippie, a song the Band detested, charted locally much like Linda Lou and My Generation due to the fact that it was a Coachmen release under another name.
Recognizing that national level status was not going to happen, the Band accepted an opportunity to release itıs 6th single--You Got The Love--under the condition it would become part of New York's Super K Productions, joining the Lemon Pipers, the Ohio Express and several other bubble gum machines while taking the identity of Professor Morrison's Lollipop.
PML was only the second Band to have a release on White Whale records--a national label--that until then was the exclusive property of The Turtles. You Got The Love and a PML photo is on the 1999 White Whale compilation CD Happy Together.
You Got The Love cracked the Billboard Top 100 and charted throughout the United States. However, the financial benefit from this never left New York while the Band toured incessantly--with and without other Super K bands. In September of 1968, Watson left PML, followed soon after by Elia and then Kotera. The last two founding members of The Coachmen--Jeff Travis and Craig Perkins--dissolved PML in April of 1969.
In 1968, You Got The Love was re-released on London Records and was distributed throughout Europe, South Africa and elsewhere. One version of the London 45 came with a photo jacket with the Band's photo that has become a rare collectors item--more rare than the blue vinyl 45 and the three time cut/Radio DJ 45 of Mr Moon--both of which only 500 were pressed. These items occasionally show up on ebay and collector auctions. The standard releases of all six of the Bands 45s are constantly on ebay.
In 1997, the Nebraska Music Hall of Fame found keyboardist Rick Bell and reported that substantial interest in the Coachmen was alive and well. This led to a reunion show in August of 1997 with five original members--Bell, Freeman, Perkins, Travis and Watson. The process of preparing for this event as well as the highly successful show rekindled a deep friendship among the band members. As a result, the Band went back into the studio after a 31 year absence to record its CD Still Rockin'--released in June of 1999.
Frank Elia rejoined shortly thereafter--in time to be a part of five Nebraska shows in the spring of 2000--not quite three years after the 1997 reunion show. At this point, plans were beginning to formulate to enable more frequent performances as well as a live CD.
One month following the spring 2000 performances, bassist Craig Perkins had a fatal heart attack in Nashville, Tennessee and was laid to rest in Ashland, Nebraska by his wife, family, the other five Coachmen and scores of friends and fellow musicians. Plans for more midwest shows and a live CD were placed on hold and stayed there.
In late 2007, the Iowa Rock N Roll Foundation announced that we had been elected to the Iowa Rock N Roll Hall of Fame as the 2008 Outside Influence Band. Between 1965 and 1968, the Band had played about 150 shows throughout Iowa. All of our records charted at many Iowa stations. In effect, Iowa was our home away from home.
On August 31 of 2008, The Coachmen were inducted and headlined the Iowa Rock N Roll Induction Concert at the renowned Arnolds Park venue at Lake Okoboji. So what's next? Only God knows and he hasn't told us yet.
THE MEMBERSHIP
Primary Members
Rick Bell, keyboards and vocals, April 1964 to November 1966, July 1997 to date. Rick and his wife Sue, married in 1966, live in Lincoln, Nebraska and have four adult children--Stephanie, Thaniel, Brad and Mandy.
George "Red" Freeman, guitar and vocals, April 1964 to July 1965, July 1997 to date. Red and his wife Mary live in North Little Rock, Arkansas. Red has two adult sons, Rob and Shane.
Jeff Travis, lead guitar, April 1964 to April 1969, July 1997 to date. Jeff lives in Lincoln, Nebraska.
Bruce Watson, drummer and vocals, April 1964 to September 1968, July of 1997 to date. Bruce and wife Kris (married in 1967) live in Walnut Creek, California and have four adult children--Phil, Lance, Holly and Jason.
Kelly Kotera, November 1966 to February 1969 and 2007 to date. Kelly has one son and lives with his wife Debi in Los Angeles, CA.
Frank Elia, guitar and vocals, July 1965 to December 1968, October 1999 to 2007. Frank and his wife Sylvia, married in 1968, have three adult sons (Peter, John and Tony) and live in Omaha, Nebraska.
Craig Perkins, bass guitar, April 1964 to March 1969, July 1997 to forever in our hearts. Craig is survived by his wife Ricki, five children (Coleman, Taylor, Tracie, Marty and Christy) and his five Coachmen brothers. Once a Coachmen, always a Coachmen.
Mike Semrad, guitar and vocals, 2007 to date. A well known Midwestern HOF musician since the 60's, Mike and his wife Judy have six grown children and live in Fremont, Nebraska.
George Bryan, bass guitar, 2008 to date. A well known midwestern HOF musician living in Omaha, Nebraska.
Other Members
Jim Reinmuth, guitar, electric piano and vocals, one of the six founding members, April 1964 to June of 1965.
Jim Shafer and Monte Spect, two bass guitarists who intermittently replaced Craig Perkins during the time he lived in California between September of 1964 and January of 1965. Spect was one of the five (with Bell, Freeman, Reinmuth and Watson) that won the January 1965 KOIL Battle of the Bands in Omaha, which led to the Band's relocation from Lincoln to Omaha in June of 1965. The Band was based in Omaha through the remainder of its career.
Rusty Davis and Merle Leadley, the horn section from the Iowa-based Beachniks that were part of the Band during the first half of 1966 and played on The Coachmen's second release Linda Lou.